E-Link Americas
Project Title:

E-Link Americas

Objective:

To provide high speed satellite Internet service for social development in Latin America and the Caribbean

Status:

Incorporated as a Canadian not-for-profit corporation in March of 2004. Will be operational and offering service by summer 2005. Rollout will be done gradually starting with the Caribbean and Central America

Supporting Agencies:

World Bank, the Organization of American States, the Institute for Connectivity in the Americas, the International Development Research Centre, and the Canadian International Development Agency.

Project Director:

Carlos Munante, Vice President Sales and Marketing

For more information:

Visit: http://www.elinkamericas.net
or contact: Jill Watson, jwatson@elinkamericas.net
Marketing Analyst, E- Link Americas
Making satellite-based connectivity affordable:
E-Link Americas has a social mandate to provide affordable connectivity for social and community development in Latin America and the Caribbean where it is currently unavailable or available at such a high price to restrict its use for social and economic development. Using satellite and terrestrial wireless technologies, E-Link Americas creates regional infrastructures in unserved and underserved areas. It does this by delivering affordable, financially self-sustaining, high-speed (broadband), Internet access to municipalities, universities, schools, hospitals, telecentres and other community-based organizations for social and economic development. E-Link Americas is able to offer affordable services by aggregating demand in the target region to create economies of scale.
The E-Link project is being managed through the headquarters and a central satellite gateway in Canada and local service partners located in various regions of Latin America and the Caribbean. Existing infrastructure in hospitals, schools, and other community-based organizations will be leveraged using wireless fidelity (Wi-Fi) technology.
E-Link Americas and education in the Caribbean:
E-Link Americas will provide the infrastructure allowing the Caribbean Knowledge and Learning Network (CKLN) to harness state-of-the-art Satellite and Internet technologies to provide a virtual learning network between Caribbean tertiary education institutions. CKLN, partnered with E-Link Americas, will provide students, colleges and universities in the Caribbean with cost-effective access to high quality e-learning content and other knowledge resources drawn from the Caribbean and around the world. E-Link Americas will provide a Caribbean-wide satellite network that will connect all tertiary institutions in the region wishing to join the network, to allow partnering and collaboration amongst themselves and to provide access to other global networks and knowledge databases.
Primary connectivity will be through the use of satellite via DVB-RCS (digital video broadcasting - return channel satellite), a highly efficient, easily scalable and easily upgradeable technology. T he infrastructure will facilitate knowledge generation and sharing (open distance teaching and learning) on a regional basis which was previously restricted by the high cost of connectivity. As such E-Link's initiative is meant to address specific needs of the Caribbean nations, which are currently lacking cohesion in implementation of specialized institutional networks. High level Internet service will be available through E-Link Americas at an affordable cost - substantially less than what these tertiary institutions are paying in their local markets.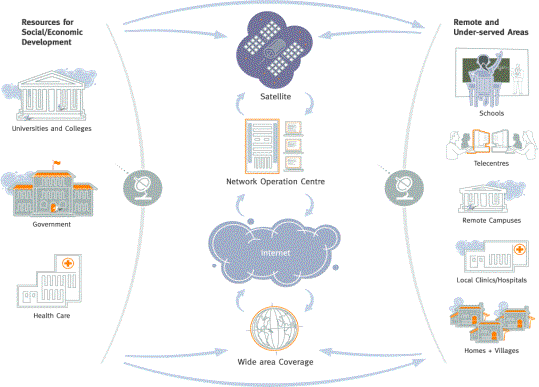 Progress to date:
In the first phase of this project, a regional study was carried out to determine the optimal type of service, solution, and vendor. In the second phase, a needs assessment for different communities throughout the region was conducted. In the third phase, the business plan was approved, E-Link Americas was incorporated as a not-for-profit corporation, and began preparing for regional rollout.
Immediate objectives:
Installation of Equipment in Canadian Teleport;
Hub Commissioning and Service Trials;
Provide connectivity to CKLN project;
Full Service rollout mid 2005.